Summarized from 3Dlabs website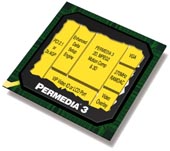 3Dlabs® continues to strengthen its leadership position in the 3D graphics revolution with the announcement of PERMEDIA 3, the most recent product in 3Dlabs' line of powerful, mainstream graphics processors for games and corporate desktop graphics acceleration.
Combining a powerful 250 million texel/sec dual-textured fill rate, full DirectX 6 and OpenGL 3D feature set and fast AGP2X support, the 128-bit PERMEDIA 3 graphics processor delivers breathtakingly realistic 3D, ultra fast 2D and cutting edge DVD playback and video integration.
PERMEDIA 3's unique 3D core has been designed for full-on single-cycle operations that enable 3D realism and image quality to be cranked up to the max while sustaining high frame rates. Advanced visual effects such as tri-linear mipmapping, bump mapping with a surface texture, and multiple texture blending are all applied in a single pass, without any performance degradation.
With an unrivaled feature set, PERMEDIA 3 is aggressively positioned in the mainstream PC market, enabling PC OEMs, developers and end-users alike to experience awesome, fully-integrated graphics performance at mainstream prices.
PERMEDIA 3 Features and Benefits
250 Million Dual-textured Texels/sec
Perspective correct, bilinear filtered
8 Million Submitted Polygons/sec
2 million drawn, textured polygons/sec
Awesome 3D Feature Set
Full DirectX 6 feature set
Multiple effects per clock cycle
32-bit color representation
32-bit, 16-bit and non-linear Z-buffer
True per pixel tri-linear mip-mapping
Full blend modes and alpha tests
Anti-aliasing
Bump mapping
Virtual textures
Voxel rendering
Advanced filtering
Full AGP2X and PCI
16 Mbytes Memory
128-bit Memory bus
High resolution 2D & 3D support
SDRAM/SGRAM
Amazing Quality DVD
Motion compensation
Hardware video overlay
Hardware scaling and filtering
Colorspace conversion
Genlock support for DVD playback
Multi-mode Video Port
Simultaneous video in & out
24-bit PanelLink™ compatible LCD port
Highly-Integrated Solution
Full geometry setup
270MHz RAMDAC
Fast SVGA
Power management
Full PC98/99 compatibility
High-quality 3Dlabs Drivers
Direct 3D
OpenGL ICD
Windows 95 & 98
Windows NT
© Copyright 1998 3Dlabs, Inc. Ltd. 3Dlabs, Oxygen, GLINT, Permedia and PowerThreads are trademarks or registered trademarks of 3Dlabs Inc., Ltd. All other trademarks are the property of their respective owners. The material in this documents for information only and is subject to change without notice. 3Dlabs reserves the right to make changes in the product design without reservation and without notice to its users.